---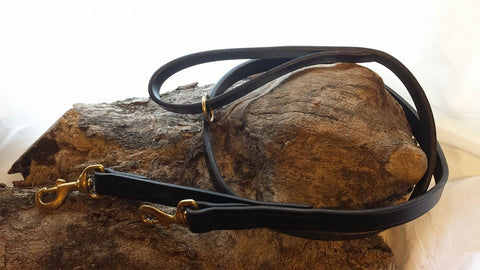 The 'Double Clip' Lead
The Traditional Leather Lead Company
---
Please note that this lead is NOT a traditional 'training' style lead. This lead is made with a handle at the top end and TWO clips at the bottom, rather than a clip at each end. If you are looking for a lead with a clip at each end, please see my 'Training Lead'.

This lead was originally designed for a working dog handler who required a piece of equipment for a specific training exercise which required his dog to wear two collars.
Measuring 1inch in width and 5 feet in length, the lead has an extra strap and clip stitched and riveted onto the 'business end'.
This lead may also be useful to those who walk their dog on a head collar, to allow for extra security when out in public.
I am able to fashion this lead from other widths and lengths to suit your individual requirements. Simply get in touch to discuss what you need.
---
More from this collection