---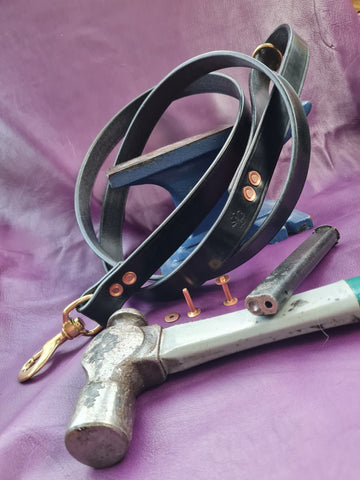 Copper Riveted English Bridle Leather Lead
The Traditional Leather Lead Company
---
These leads are entirely hand made from my popular 'Dark Havanna', 'Australian Nut' or Black English bridle leather hides.

Having been cut from the hide, the trigger clip and handle ring are cast from solid brass and are secured to the body of the lead by the traditional use of solid copper saddlers' rivets and washers, secured in the time honoured way of using a 'ball pein' hammer and anvil, to create a very strong, rustic appearance.
Unlike cheaper 'cap rivets', solid copper saddlers' rivets will not 'pop off'. They must be drilled out in order to remove them. They provide an incredibly strong means of keeping your lead together.
All leads come with a solid brass handle ring as standard and at no extra cost to you.

These leads are made to order. You have a choice of length (4 feet, 5 feet or 6 feet) and width ( 1/2, 3/4 and 1 inch) Each lead has an 8 inch handle and is finished with a bevelled edge, dyed to compliment the colour of the leash body. A single crease which runs the entire length of the skin side of the leather gives that understated, professional look.
As always, if you need another length, thickness or style of lead, drop me a line to discuss your requirements.
Paul Murphy
---
More from this collection