---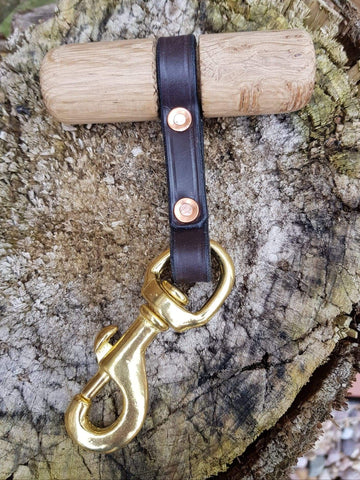 The Toggle
The Traditional Leather Lead Company
---
'The Toggle' is a short lead that was designed for Police dog handlers engaged in firearms deployments.
Its primary use allows the handler to keep their dog extremely close and under control during potentially dangerous operations. If necessary the handler can send their dog to stop a fleeing criminal with the toggle attached to the collar, without fear that the dog will become caught up by a trailing lead.
The toggle can also be a useful tool for obedience training, when practicing 'off lead' heelwork etc.
Each handle is hand turned by me on my lathe, from a block of solid Oak measuring 100mm x 30mm (approximately 4 inches x 1 1/4 inches). The four inch English bridle leather strap is fastened into a small groove made in the centre of the handle, to ensure that even under the harshest of conditions, it will always stay where it is supposed to.
The solid, cast brass trigger clip is held in place by two hand peened solid copper saddler's rivets. These rivets have to be drilled out to get them to budge!
Available in Dark Havana, Australian Nut or black English bridle leather. 
Due to the fact that wood is a natural product and that each toggle is individually hand-turned, the grain pattern will vary with every single Toggle produced, meaning that you will own a truly individual piece that will never be exactly replicated.
---
More from this collection